My family has been active in Elk Grove for three generations, and I have spent 20 years serving the community - on the Elk Grove Community Foundation, Spotlight Elk Grove, Elk Grove Regional Scholarship Foundation, Elk Grove City Planning Commission, and on the Elk Grove City Council.
I am running for one last term on the City Council to preserve our small-town values, fix roads, and to ensure public safety remains a top priority.
I also want to lay foundations for our future by finishing critical projects like the Aquatics Center, Community/Senior/Veteran's Center and the Animal Shelter.
Finally, I want to continue to fund infrastructure improvements and get the Southeast Connector built to reduce traffic.My agenda is simple — preserve the unique, small town feel that makes Elk Grove special, keep our neighborhoods safe, and build a better future for Elk Grove families.
Elk Grove doesn't need more divisive politics - we need to protect the things we love and move forward with a vision for the whole city.
I am honored to have earned the support of Elk Grove Police Officers Association, Elk Grove Chamber of Commerce, EG Firefighters, community leaders, and our local farmers and ranchers.
More importantly, I want to earn your support and your vote.
If you have questions, call me @ (916) 835-5064 or Pat@PatHume.com
News
Monday, August 13, 2018 6:32 PM
"We have come a long way since I was elected 12 years ago! When I came on to the council, Elk Grove was ranked 15th out of 15 as a place to do business in the region. Several years later, we were awarded recognition as being the best. We came through the Great Recession with money still in the bank and I try always to be mindful of being a good fiscal steward.

Most importantly, Elk Grove is finally maturing into a city and building a civic amenity infrastructure.

We have an Aquatics Center that will be open later this summer, a Community/Senior/Veteran's Hall that is under construction and an Animal Shelter that just broke ground. Seeing these through to fruition as well as seeing construction begin on the Kammerer Road extension to Interstate 5 would really punctuate a sense of accomplishment after (what will hopefully be) 22 years of public service to the residents of Elk Grove."
---
Thursday, June 21, 2018 12:00 AM
Earlier this evening Elk Grove City Council member Pat Hume kicked off his 4th and according to him, final race for city council.
Hume who was elected in 2006 is seeking to become the longest serving City Council member in the young history of the city of Elk Grove. Jim Cooper, who was one of the original 5 elected in 2000, served for 14 years before leaving to serve in the California State Assembly in 2014.
Hume is running in City Council District 2.
---
Monday, January 19, 2015 12:00 AM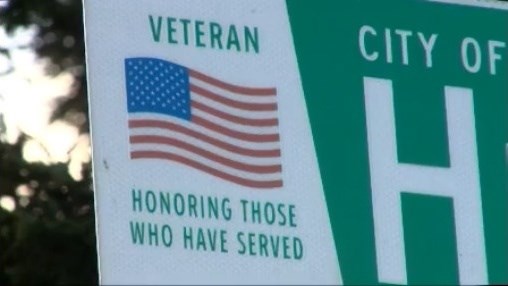 ELK GROVE, Calif. (KCRA) — The city of Elk Grove is set to vote on a new ordinance that will change the way some street signs are named.
An American flag can be seen on an otherwise normal-looking street sign in Elk Grove.
Elk Grove city council considers new street naming program
That flag was put there to honor veteran Col. Harlan B. Hume, whose family built the neighborhood.

Harlan Hume's son, Pat Hume, is now a city councilmember and wants to see more signs named after veterans, firefighters and law enforcement officers.