News
Latest updates from the campaign:
Wednesday, June 9, 2021 4:40 PM
City Councilman Pat Hume to run for Supervisor
For Immediate Release CONTACT: Tab Berg
June 9, 2021 916.492.2100 | tberg@TABcommunications.com
City Councilman Pat Hume to run for Supervisor
ELK GROVE - Elk Grove Councilman Pat Hume announced that he has begun organizing his campaign for Sacramento County Board of Supervisors in District 5. Current Supervisor Don Nottoli will be retiring after almost three decades on the Board of Supervisors.
"Supervisor Nottoli has earned tremendous respect for how well he has represented this district," said Hume. "I've worked beside him for over a decade, serving on regional board dealing with transportation, infrastructure and water issues - so I know the the issues and the commitment it takes to make a difference."
The Fifth District includes the cities of Elk Grove, Galt, Isleton and Rancho Cordova, and the rural farming communities in the southern portion of Sacramento County and the Delta.
"We're facing the same issues as we were a year ago," said Hume, "coupled with the need to reopen schools and businesses to get our economy back on track to recover from the year-long shutdown."
"We can't focus only on the pandemic and push all the other critical issues facing our communities on to the back burner. We need action now," said Hume.
"Homelessness is an epidemic and past efforts have failed, so we need a new solutions - and we must recognize the negative impact homeless camps have on our families, businesses, and communities. We are facing other crises as well - a housing shortage, road blocks on transportation projects, a drought, and a rising crime rates," Hume said.
Pat Hume has already earned the respect of many of his colleagues locally and regionally, including the endorsements of the mayors of the two largest cities in the District - Elk Grove Mayor Bobbie Singh-Allen and Rancho Cordova Mayor Garret Gatewood.
"I have been working alongside most of these leaders for a long time," Hume said. "They know they can trust me to be thoughtful, deliberate and transparent."
Hume's nascent Finance Committee has been encouraging as well, cobbling together respected leaders such as Lux Taylor, Dave Lucchetti, Gerry Kamilos, Michelle Smira, Ardie Zahedani, and Katherine Bardis.
Hume's longtime consultant Tab Berg, who has directed numerous campaigns in Sacramento County, Elk Grove and Rancho Cordova, will head up Hume's campaign. The campaign will be also be retaining long-time area consultant David Townsend on board to assist with messaging and outreach.
"I have a lot of faith in the team we are building," said Hume. "We're building to win, but also to focus on real issues and solutions that will make the county better, safer and more prosperous."
# # #
---
Wednesday, May 5, 2021 8:44 PM
Elk Grove City Council Member Pat Hume, who also serves on the Connector Joint Powers Authority board, described how the Connector can benefit Elk Grove residents.
"You have people living down in Elk Grove that already use this as a corridor to get to other places in the region," he said.
"And so, having it function better, function safer and be available. God forbid, but be available in the case of a natural disaster or an evacuation route or something like that to be able to handle the capacity of people who need to flee an area. So, there are all sorts of benefits."
---
Tuesday, May 4, 2021 8:48 PM
Council Member Pat Hume spoke in favor of holding the city's annual 4th of July event.
"I think we're at a point where we should put something on," he said. "We need to start returning to a sense of normalcy, and people need to grow up and respect their own boundaries.
"If you want to come out and wear a mask, please do that. If you want to come out and not wear a mask, please respect the fact that some people may not appreciate that. If you want to stay home and do your own thing, because it's too soon for you, I respect that completely."
---
Monday, February 1, 2021 8:54 PM
City Council Member Pat Hume referred to the library's deficiencies and the efforts that occurred to build the current Elk Grove Library more than a decade ago.
"I think (that project) was rushed through for political reasons," he said. "But anyway, it's at least been made do to work for as long as it has. However, it has so many issues with both the usability of it, but as well as the parking surrounding it.
"While (the new library site) is not the fix-all panacea, it is definitely a potential for a better, more reusable environment for this branch of the library."
Hume added that the city is still interested in adding a library, with a performing arts center, to District56.
"We would like to make that happen, but obviously that's a much bigger bite to take than this, which I think is kind of a stop-gap measure to provide better services in East Elk Grove," he said.
---
Monday, August 13, 2018 6:32 PM
"We have come a long way since I was elected 12 years ago! When I came on to the council, Elk Grove was ranked 15th out of 15 as a place to do business in the region. Several years later, we were awarded recognition as being the best. We came through the Great Recession with money still in the bank and I try always to be mindful of being a good fiscal steward.

Most importantly, Elk Grove is finally maturing into a city and building a civic amenity infrastructure.

We have an Aquatics Center that will be open later this summer, a Community/Senior/Veteran's Hall that is under construction and an Animal Shelter that just broke ground. Seeing these through to fruition as well as seeing construction begin on the Kammerer Road extension to Interstate 5 would really punctuate a sense of accomplishment after (what will hopefully be) 22 years of public service to the residents of Elk Grove."
---
Thursday, June 21, 2018 12:00 AM
Earlier this evening Elk Grove City Council member Pat Hume kicked off his 4th and according to him, final race for city council.
Hume who was elected in 2006 is seeking to become the longest serving City Council member in the young history of the city of Elk Grove. Jim Cooper, who was one of the original 5 elected in 2000, served for 14 years before leaving to serve in the California State Assembly in 2014.
Hume is running in City Council District 2.
---
Monday, January 19, 2015 12:00 AM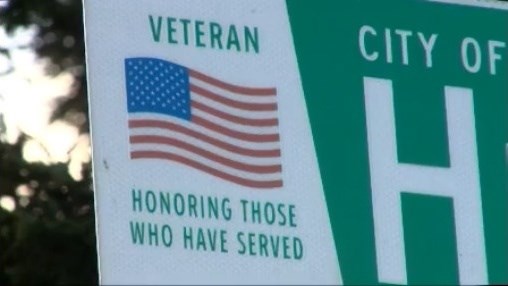 ELK GROVE, Calif. (KCRA) — The city of Elk Grove is set to vote on a new ordinance that will change the way some street signs are named.
An American flag can be seen on an otherwise normal-looking street sign in Elk Grove.
Elk Grove city council considers new street naming program
That flag was put there to honor veteran Col. Harlan B. Hume, whose family built the neighborhood.

Harlan Hume's son, Pat Hume, is now a city councilmember and wants to see more signs named after veterans, firefighters and law enforcement officers.